Defending Bangladesh bloggers under threat of death
Background
Secular humanist bloggers, activists, publishers, university lecturers, members of minority community & foreign nationals are being systematically targeted by religious extremists in Bangladesh. Ananta Bijoy Das was murdered. He wrote blogs for Mukto-Mona, a website once moderated by US citizen Avijit Roy, himself hacked to death in February 2015. Ansar Al Islam, an insurgent group linked to Al-Qaeda, claimed responsibility for four of the killings last year, saying they had the "permission of Allah" and warning of further attacks. In October publisher Faisal Arefin Dipan was stabbed to death in the capital hours after assailants from another Islamist group knifed another publisher of the slain bloggers. The Islamists have published a list of 84 bloggers whom they have accused of blasphemy and demanded they be punished. In this climate of violence the bloggers/activists are hardly receiving any help or protection from the authorities and are living in constant fear for their lives.
Our organisation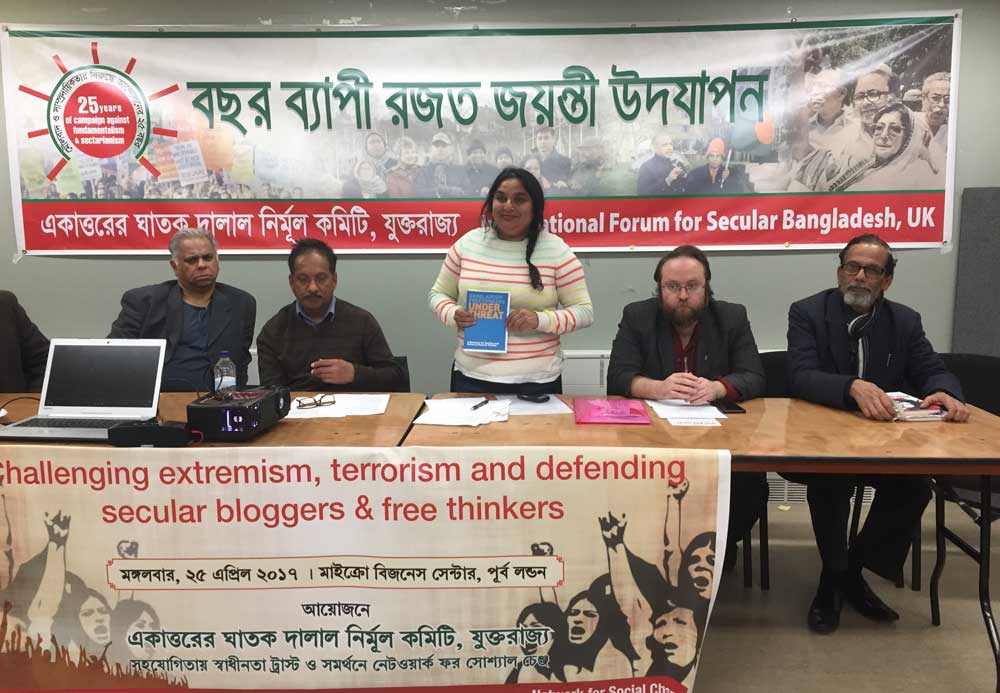 While the Bangladeshi Islamists are well connected to their partner organisations abroad for support, the Bengali secular camp in the UK & in Bangladesh are struggling almost in isolation. Yet the Bengali diaspora in the UK is best placed to highlight the bloggers' plight and contact secular progressive individuals and organisations to provide help and support. The Nirmul Committee, based in the East End of London, was founded in 1992 to counter the rise of religious fundamentalism, expose the Islamists operating as religious leaders and seek justice for victims of the Bangladesh War of 1971 in which the Islamists colluded with the occupying army in targeted killings of Bengali intellectuals and minority Hindus. We have witnessed and documented for many years the sophisticated manoeuvrings of the international religious right. We propose to organise a formal network of support from the UK to assist the bloggers who are engaged in the difficult task of challenging Islamism within a Muslim majority country and in Muslim majority communities here.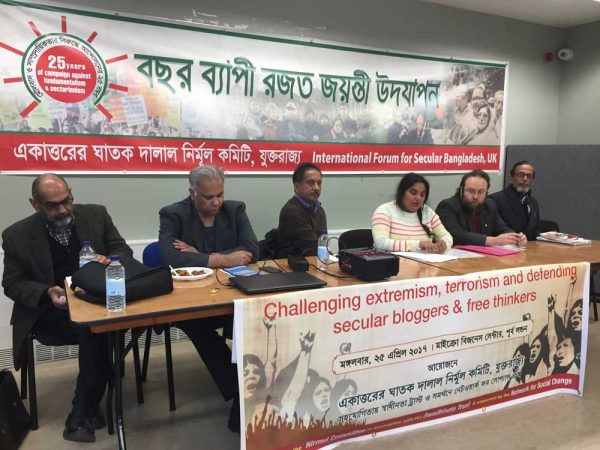 The project:
1. To form a UK-wide network of Bengali and non-Bengali secular activists.
2. To provide support for the bloggers and their progressive movement in Bangladesh & elsewhere.
3. To create a data collection and mapping exercise of extremist networks in Bangladesh and the UK which will be useful to secular activists, NGOs and human rights organisations.
4. To compile a dossier of attacks, assaults, and harassment against secular activists in the UK.
5. To hold a number of seminars and events to highlight the issues and present our findings widely.
 What you can do about the recent atrocities against the Hindu & Santal community in Bangladesh
We are extremely concerned at the recent atrocities against Hindu community in Brahmanbaria in October and against Santals in Gaibandha in November. These attacks have provoked new fears amongst minority religious communities in Bangladesh.
It is beyond the capacity of the small groups of individuals or communities under sustained attack to assert their rights against very powerful political movements and land grabbers. We therefore need political, moral and, most importantly, immediate financial support from people from across the world who are concerned about this terrifying situation. We hope the vision of a common humanity will prevail over this terrible situation and that help reaches the beleaguered victims as soon as possible.
Things you can do to support
Speak out about the plight of religious minorities of Bangladesh with friends, families, neighbours and colleagues to increase awareness
Write to
Prime Minister Sheikh Hasina

Prime Minister's Office

Old Sangsad Bhaban

Tejgaon, Dhaka-1215

Bangladesh

Via facsimile: +880 2 8113244; +880 2 8111015

your local MP, urging the UK govt to take the issue up with Bangladesh government http://www.parliament.uk/get-involved/contact-your-mp/
Contact lobbying organisations
Support organisations working in Bangladesh
Issued on 10 Dec 2016 World Human Rights Day by the Swadhinata Trust, Nirmul Committee with the support of the Network of Social Change
To donate to the work of the Trust:
Swadhinata Trust
Barclays Bank
114 Fenchurch Street Branch, London. EC3P 3HY
Account no 03248461,
Sort code 20 31 52
Directory to assist secular activists and defenders
Please click the links for More Information: Bangladeshi Free Thinkers under Threat
https://www.benarnews.org/english/news/bengali/bangladesh-terrorism-04112019164441.html
The resource directory, online & hard copy, for dealing with online & physical threats to assist secular Bengali activists was launched on Thursday 21st June 2018, Idea Store, Whitechapel, East London.
Bangladeshi Freethinkers Under Threat' project update
Since its inception, the project has completed one important piece of work, an online and paper resource for bloggers and writers under threat, which was accompanied by a launch event that included representatives of the Metropolitan and local police services. Other events related to the project have also been held, including public events, a confidential legal advice session for bloggers, and a special meeting arranged between six bloggers and the UK Commissioner on Countering Extremism. 
Fourteen depth interviews were undertaken with bloggers and activists facing threat and these are currently being written up as a public report and a mapping of the main threats. The Commission on Extremism has requested the use of this data and the results of the interviews in its own first report which is due to be released in June 2019. The results will also be submitted for an academic journal article and disseminated in other ways.